Author
Message
markB
Newbie



Joined: Jul 29, 2009
Posts: 352



Posted: Wed Feb 20, 2008 11:52 am

Post subject: A New Climate 'War' Room?

---

Virgin CEO, Richard Branson, thinks that the United Nations needs another panel to fight climate change. The British billionaire adventurer and Virgin Group Founder and CEO proposed the creation of an international "environmental war room" led by the United Nations with the sole purpose of staving off human-induced climate change.

The group would be run by a world figure in global arming and could serve as "a tool for the UN" to find good ideas, calculate the costs of implementation and figure out how to best implement them.

With UN General Assembly President, Srgjan Kerim, and actress, Daryl Hannah, by his side, Branson outlined the idea at a two-day UN debate on what to do about climate change. The UN is busy trying to formulate its own stance on global warming and would like to have a new all-encompassing climate treaty (one that would include participation by the US, China and India) in place by 2009.

Branson pledged back in 2006 to invest all the profits from Virgin's five airlines and one rail company - some $3 billion over the next decade - in developing alternative energy sources that do not contribute to global warming.

Celeste
Newbie



Joined: Jan 17, 2008
Posts: 8



Posted: Wed Feb 20, 2008 9:00 pm

Post subject:

---

This guy is one of the few entrepreneurs who actually impresses me. He may have his finger in every pie he can find, but he always seeks to improve those pies and everything around them.

Good on him...
All times are GMT + 10 Hours






You cannot post new topics in this forum
You cannot reply to topics in this forum
You cannot edit your posts in this forum
You cannot delete your posts in this forum
You cannot vote in polls in this forum

Are you really that hungry?
'Go Vegetarian!'

The green book on vegetarian nutrition. Download free HERE.
'Eating Up the World'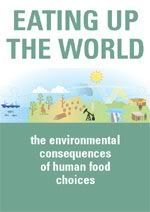 Download free HERE.
Animals Australia 'Unleashed'

Animals Australia 'Unleashed'
Meat Free Petition
New Product
Healthshare
Facebook